WELCOME TO
The next big thing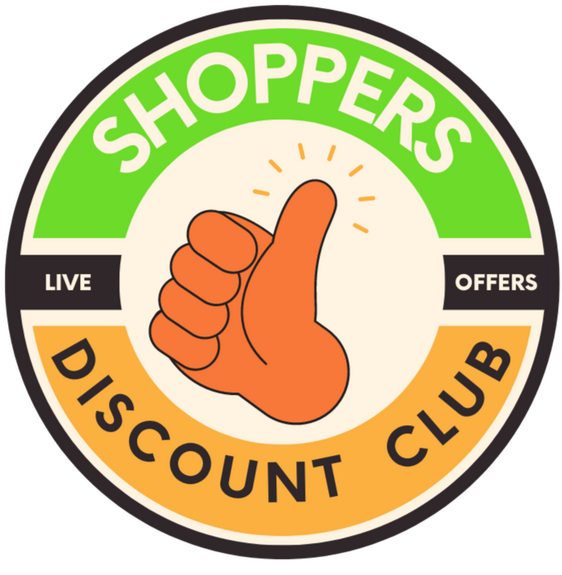 for High Streets, Town Centres and Shopping Centres retailers.
Upselling and Cross-sell your products and services in real time with Live Discount!
---
01.
Introducing the Shoppers Discount Club
We all like a deal, this is why millions have flocked to wowcher and groupon. However the deals are often good for the consumer but not the provider/supplier. With the Shoppers Discount Club the retailer dictates a discount that is financially viable.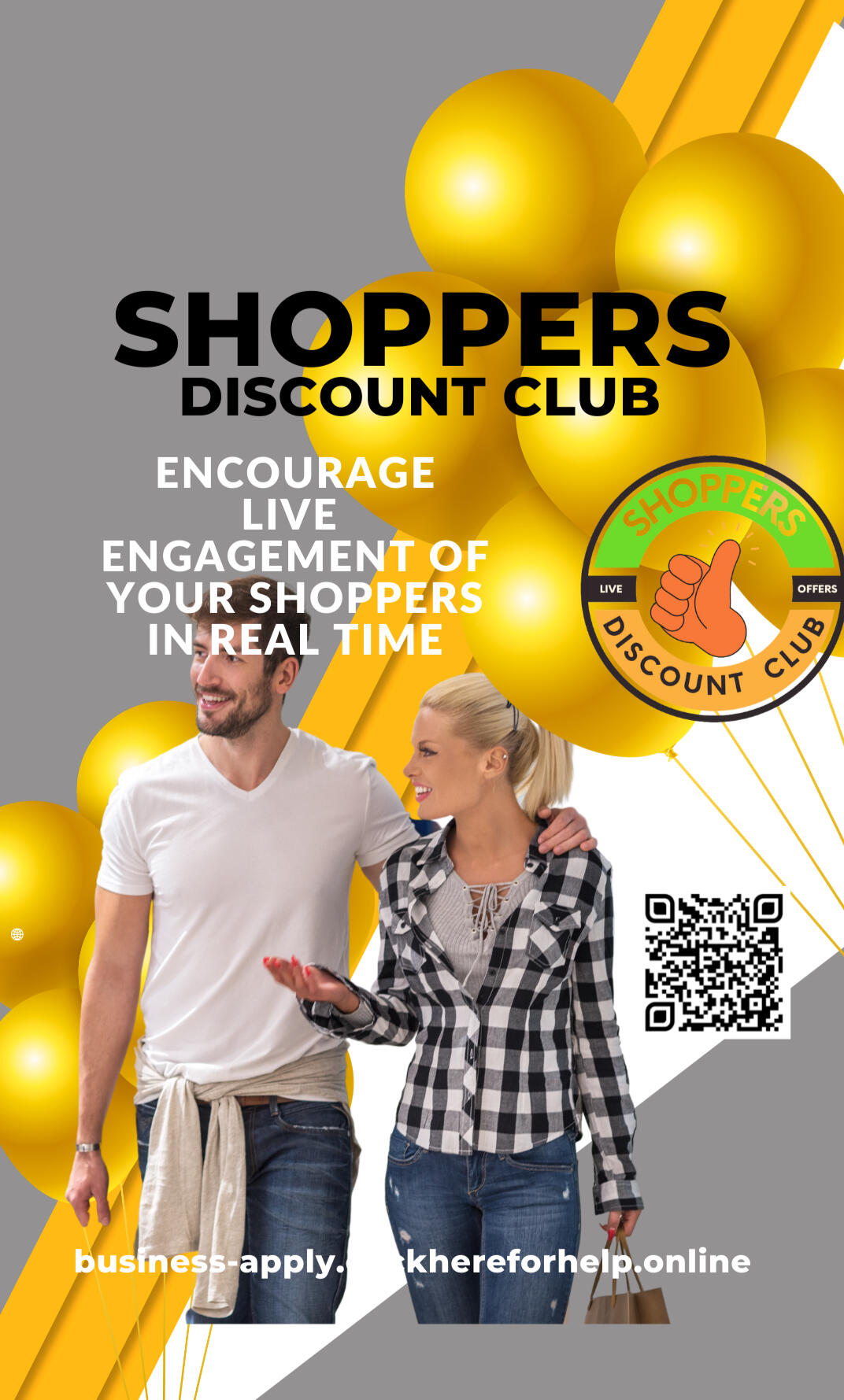 Collaborations & Sponsorship Opportunity
We can provide a service to banks, advertising agencies, insurance companies, local authorities or membership organisations who want to sponsor supporting businesses market their servicesBusinesses everywhere is in need of constructive customer acquisition support which in turn will help their businesses flourish in this current climate.
Membership & Groups
We can help Membership organisations integrate A.I technology to add value, scalability with an opportunity to expand their offerings to members or groups.
02.
How Retailers can Benefit
Almost everyone has a mobile phone. Most restaurants offer table top QR code ordering so, a lot of people have become use to using QR codes. The Shoppers Discount Club has made it easy for the retailers and shoppers to utilise and enjoy live discounts in real time.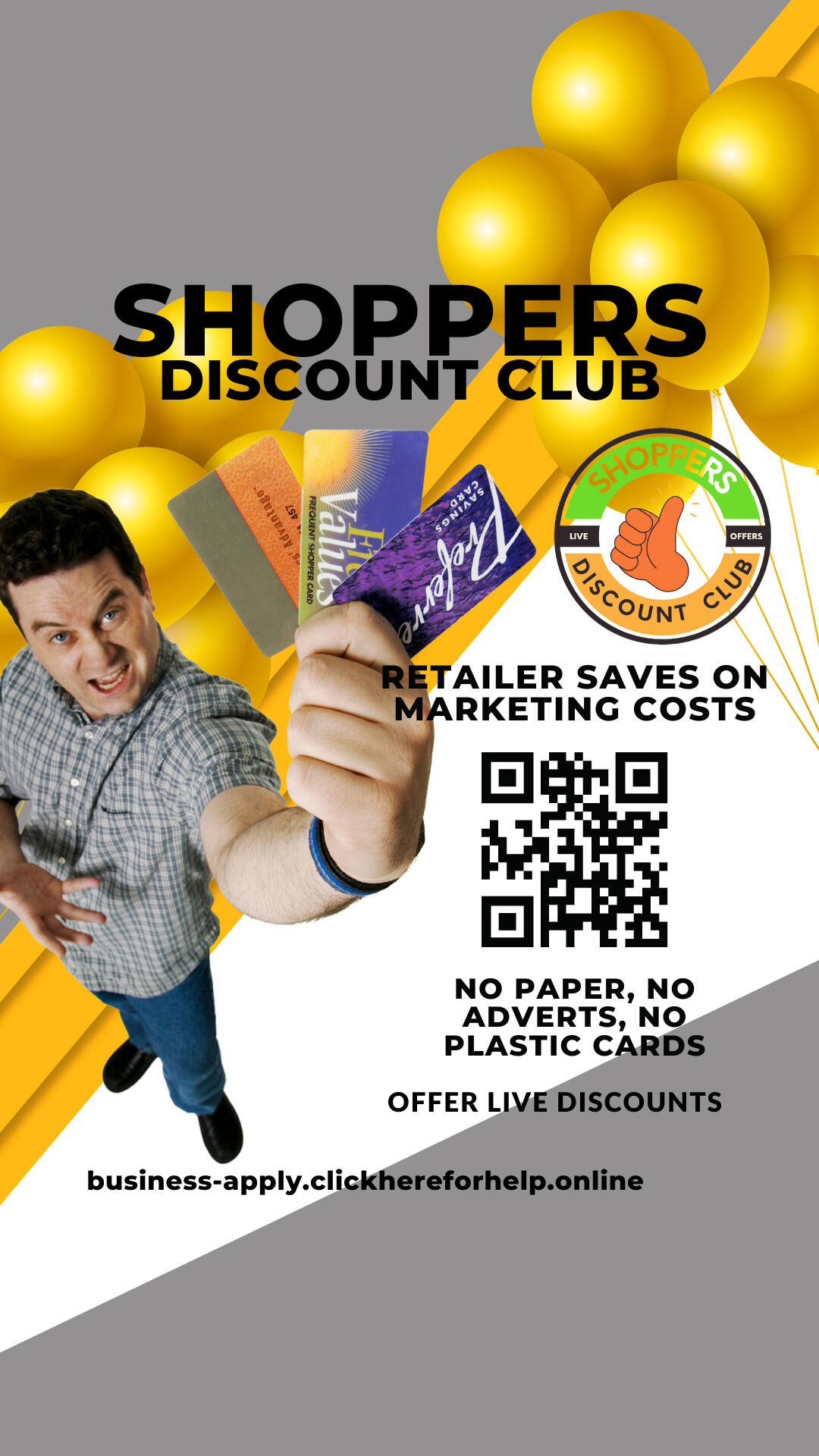 GENERATING FOOTFALL FOR RETAILERS
Ushering in Artificial Intelligent Conversational Chatbots to Promote Retailer's instantly redeemable offers during live Shopping on the High Street and Shopping centres to boost customer satisfaction.
BETTER BRANDING
DIRECT MARKETING
TARGETING CAPABILITIES
Under performing products or services can be easily spotlighted.
or great deal products can be show cased
03.
Security & Compliance
Our app is not designed to generate spam but mainly to deliver information and offer secure and private information and links directly to the user with a set of options as to what they want to achieve.
04.
How Shoppers redeem voucher
Millions are spent each year sponsoring sporting activities around the globe.
The Shoppers Discount Club is not only disruptive technology and a game changer for businesses, but will add value to large organisations status and credibility in supporting SME whilst inspiring and championing new technology to help them grow their businesses.
05.
Integration & Payment Gateway
We have not reinvented the wheel. We have simple chosen to integrate with a proven, secure and reliable payment gateway provider Square.
06.
We are Hiring Sales Executives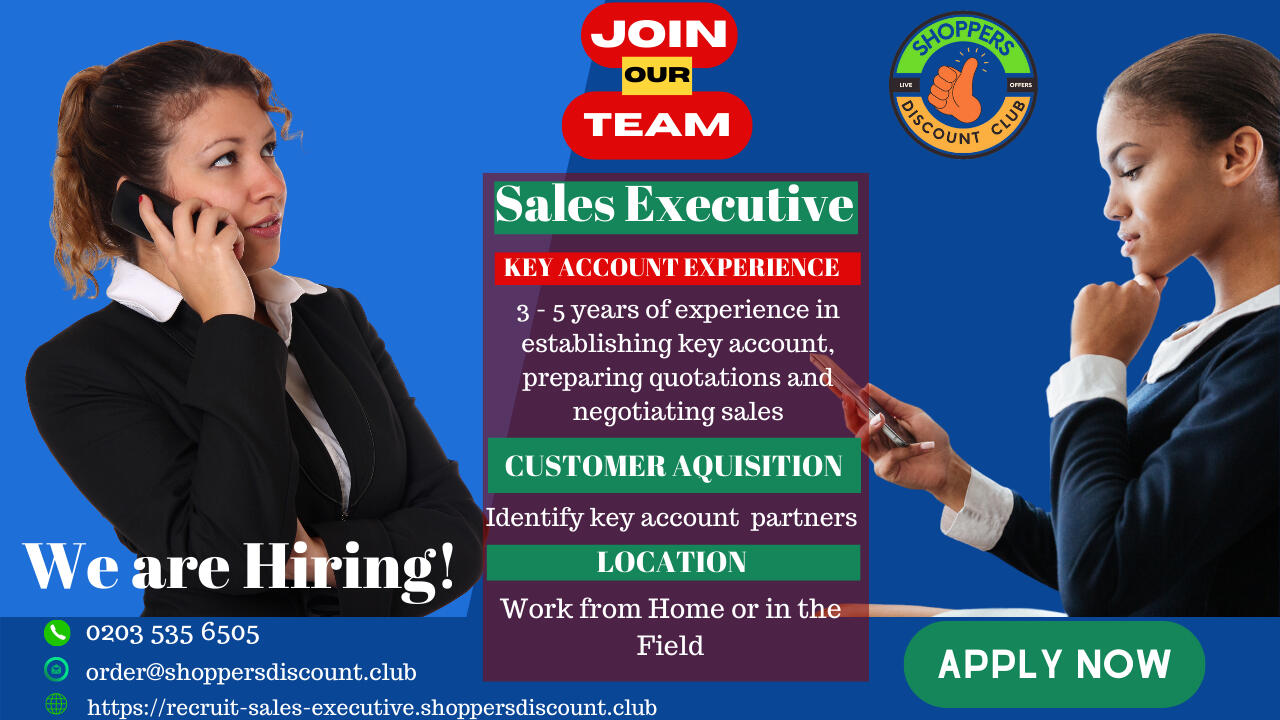 Looking for a new career? Want a new opportunity in a untapped market with uncapped earning? Then take a look at this job
07.
Luxury Brands can use Shoppers Discount
We invite you to experience a couple of our clients shoppersdiscount.club chatbot app. Just type 'visitor' if you don't want to give your name.
NOTE: When you finish interacting with them, just click back to be returned to our websiteClick on the link below
08.
The Retailers Ultimate Guide to launching SDC App
With the massive increase in people using there mobile phones to connect, with so many platforms it is easy to miss an enquiry. Your personal P.A can help streamline communications.
---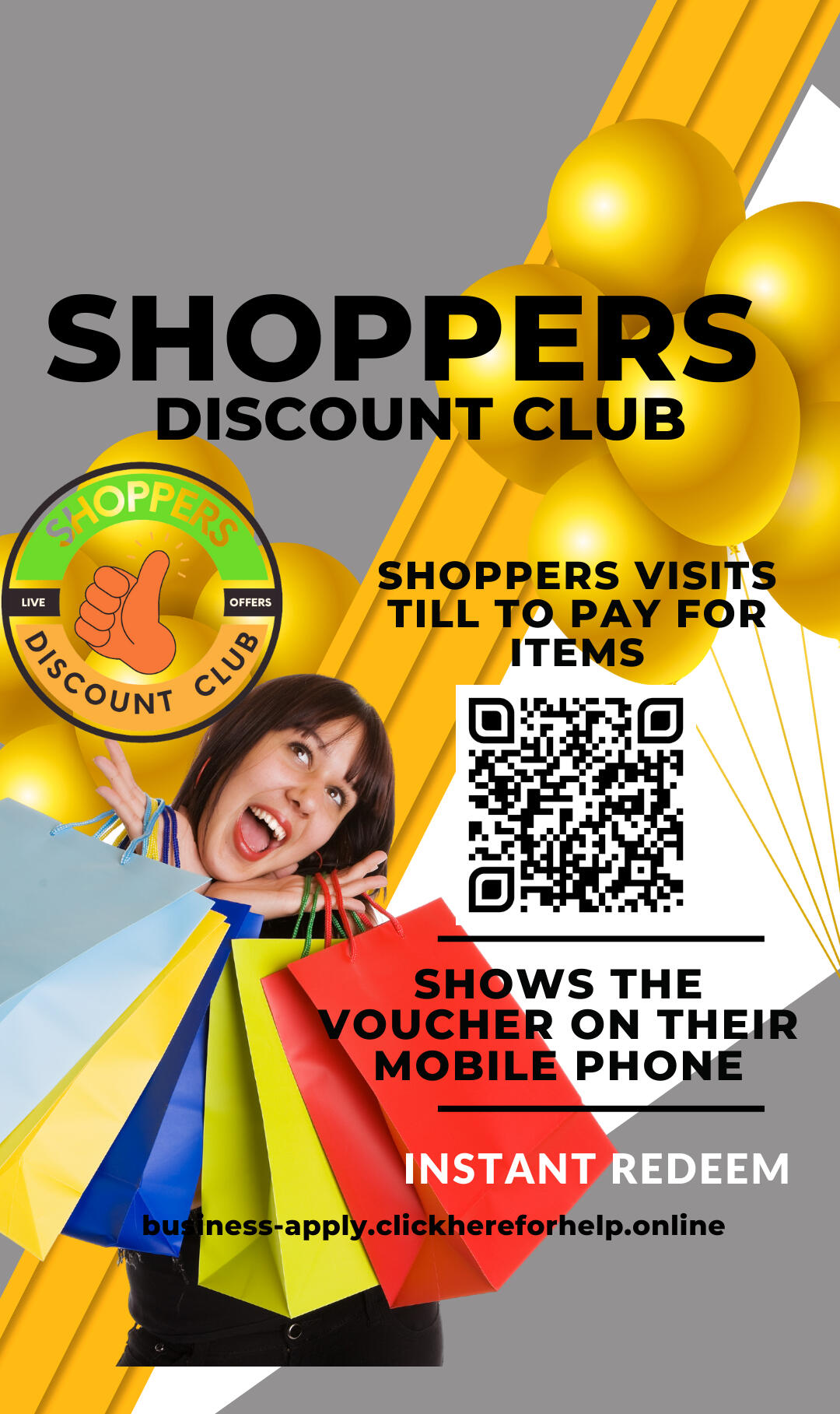 PAPERLESS
CUTS MARKETING COSTS
USER FRIENDLY
No need to print endless paper or card vouchers, design membership cards, run expensive newspaper ads, the shoppers discount club is a annual service with various updating offers.
How to Join us
We will show you how to start offering instant live discount to students, traders, residents, government workers all year round.It's easy to start the process, just click the link below.
09.
What else can our Chatbot do?
---
010.
About the Founder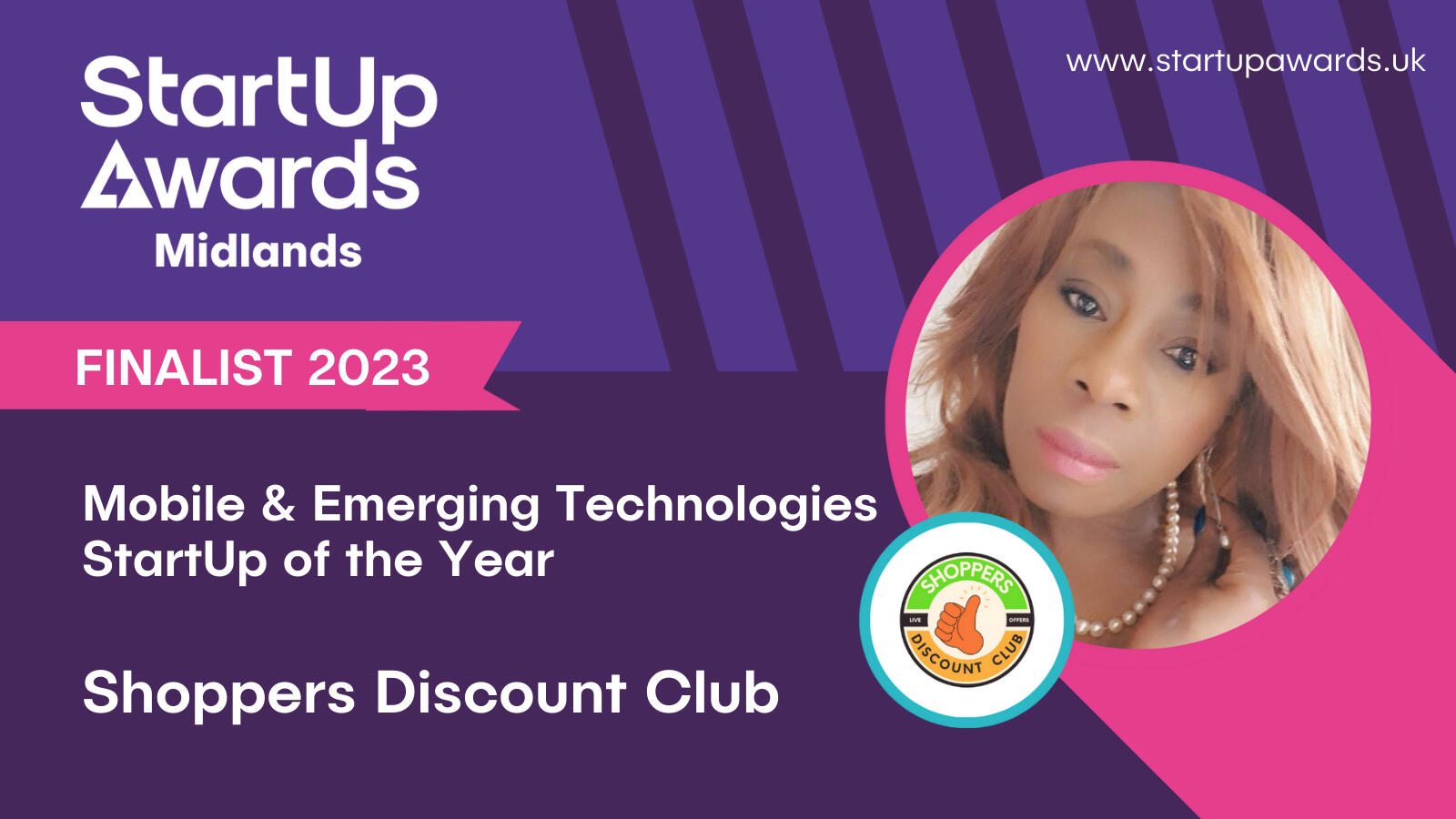 Diane Shawe M.Ed is the founder of Virtual Speedy Services Ltd. She set it up during the pandemic with the aim of supporting businesses that needed a quick turnaround such as business plans, raising finance or marketing there business.She came up with the idea as an established business on the High Street and realised that they has a problem that needed to be solved.After a significant period of closures during lockdowns, with many customers opting for online retailers to meet their needs, retailers have struggled to incentivise those shoppers back in-store. The app provides bespoke, QR codes and POS material for shoppers to display in their store fronts.These QR codes host live discounts which shoppers can redeem in-store and are fully-customisable to retailers, allowing them to discount certain products to yield increased profits and footfall.By utilising QR code technology, Shoppers Discount Club is leveraging the tool which became popular during the pandemic, used by thousands of bars and restaurants to facilitate contactless payments.Diane Shawe, founder of Shoppers Discount Club said: 'The pandemic was a tough time for so many retailers, with less footfall on the high street and long period of closures. Inspired by the use of QR code technology in the hospitality sector, we set out to deliver a benefit to retailers using the same technology people had become so accustomed to. I'm delighted to bring my background in technology and retail together to be able to offer retailers something which will truly make a difference and provide the much needed solution stores need to increase footfall again."

---
011.
Want to action
Sponsorship
We want to work with organisations that can help support businesses to attract more footfall or clients. Contact us if you would like to arrange a meeting with one our Sales Executives or receive an information pack.
---
012.
Start solving your problem
Retailer Quick Sign up
---
013.
ANNUAL PRICING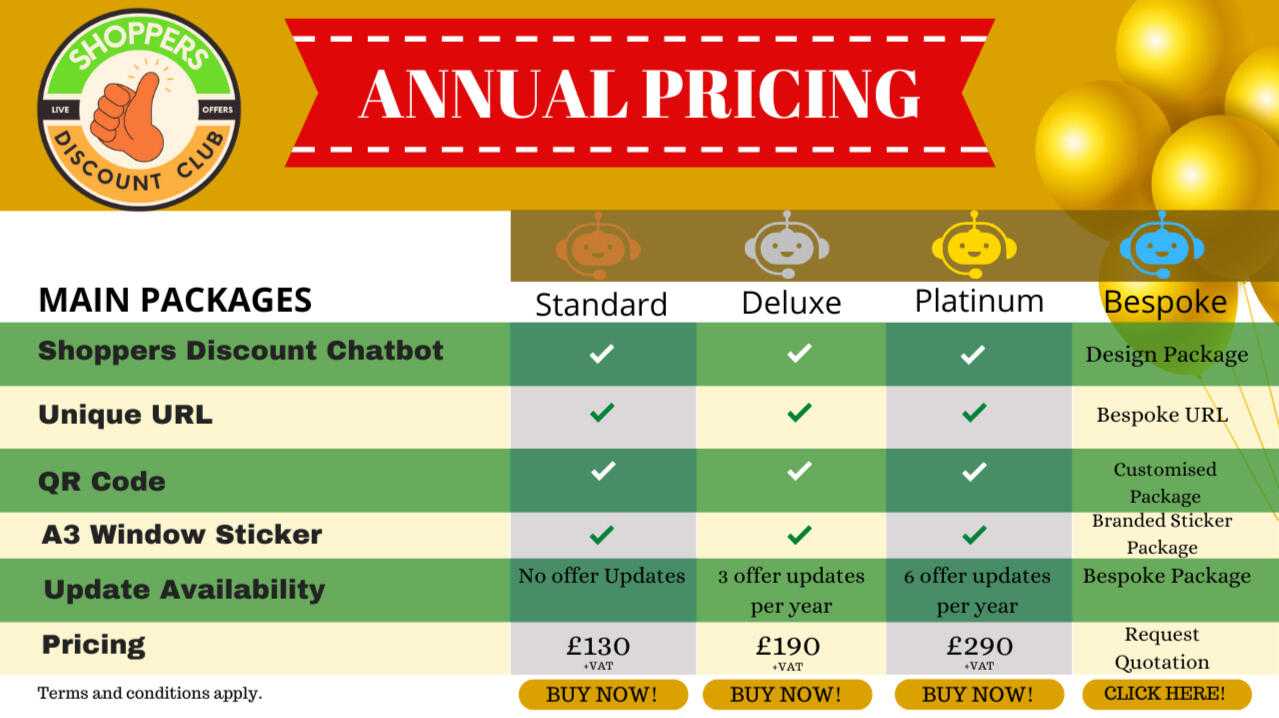 ---
014.
Get Started with our Standard Package £130.00
Want to get started with presenting your live discount on your shop front? Then apply and pay and we will rush you your window sticker, create your offerr so you can start offering live discounts in real time


---
---
© 2022. All rights reserved. Shoppers Discount Club Powered by Virtual Speedy Services Ltd 12943526

Virtual Speedy Services Ltd. Co. Reg 12943526. 128 City Road, London. EC1V 2NX www.virtualspeedyservices.biz
Registered with the IP Rights Office
Copyright Registration Service
Ref: 28844029047